For more than 20 years Unlocking Potential has helped people develop and business grow. We've helped 5,300 businesses, supported 2,500 jobs (and created many more) and given 2,300 new businesses the very best start. The positive impact on the Cornish economy and business community is without doubt. So how did we do it? By putting people – leaders, employees and new recruits - front and centre of everything we did.
The support we delivered was only possible thanks to the fantastic opportunity provided by EU funding, the vision of the Unlocking Potential team led by Allyson Glover, and the dedication of The Cornwall College Group, the home of Unlocking Potential.
Starting out as Unlocking Cornish Potential the mission was clear: address the brain drain in Cornwall. Thanks to the CUC partnership, more and more graduates were being created in Cornwall, and they wanted to stay and work in the county. We recognised the effort required to ready SME's to employ this fresh talent - these Grads were an important part of the mix to create a thriving Cornish economy for the future.
Our early-stage grad placements gave businesses financial support for salaries, expertise to make the most of their new employees and a graduate scheme designed for small businesses, that fast-tracked their induction and performance.
Through this we learned what businesses needed to grow and developed a holistic understanding of the entrepreneurial spirit in the county. We designed programmes including Graduate Start-up, Breakthrough, Grads for Growth and Future Focus to supercharge Cornish businesses (and across the broader South West).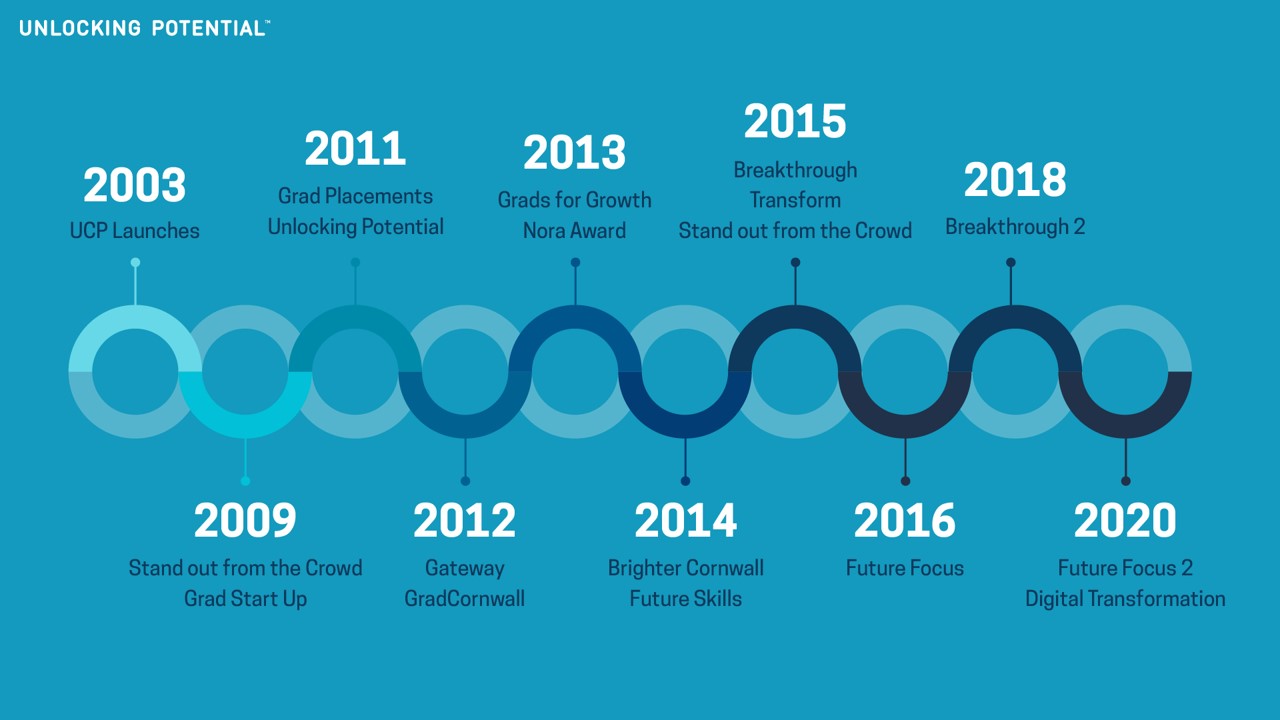 We helped business start, develop, evolve, pivot, survive, thrive and innovate. We tapped into the expertise of our team and built a network of experienced, energetic and empathetic mentors, who have provided over 27,600 hours of one-to-one support to business owners and their teams.
Not forgetting the grads, we also created a unique employability course (Stand out from the Crowd), and short-term work experience opportunities, meaning grads were prepared and ready for a career in small businesses after their degree.
As times changed, we worked with more businesses, created more jobs and more economic benefit by listening, learning and adjusting our support to make sure it was relevant, impactful and inspiring. We became a trusted sidekick, number one cheerleader, critical friend and the curator of an exciting business community.
Our help took many forms – practical workshops, inspirational events, collaborative peer-to-peer learning, and inspirational business trips – over 10,000 delegates attended during our 20 years of support.
Everything we did was designed to help a business develop a clear vision for their future success, a practical plan to get there and provide the tools and resources to make it happen.
Our final project was born from witnessing the positive effect digital can have when embraced by a business, and the detrimental impact of ignoring it. We launched Digital Transformation to help Cornish businesses not only keep pace with their industry, but be trailblazers, as Cornish businesses have always been.
We hope that an enduring legacy of UP will be a rich, diverse mix of re-energised, re-focused, ready-for-anything Cornish businesses, populated with people who love what they do and where they do it.